The Grand Mafia Mansion Level 17 Guide
I recently completed "The Grand Mafia" game offer on GG2U.org for $30. You get a time limit of 40 days to complete the offer, which is more than enough time. I have assembled some pointers that I learned from playing this game to hopefully assist you in completing the offer.
---
Site: GG2U.org
Title: The Grand Mafia
Location: "Gaming Offers" page of GG2U.org
Pay: $30
Requirements: Get to Mansion level 17 within 40 days.
Avg Completion Time: 21 Days – I got this number by averaging my time with others who have completed this offer. It took me about 30 days to complete because I messed up the beginning, and it took others ~12 days to complete. With this guide you should be able to finish a lot faster than I did.
---
The First 24 Hours:
For the first 24 hours of playing this game, you will get a double construction queue that will allow you to upgrade 2 buildings at once. When I was playing, I did not realize how useful this was until I didn't have it. I would suggest using one slot to keep upgrading your mansion and use the other slot to upgrade your Investment Center. This will pay off in the long run and will allow you to upgrade your Labor Unions, which will up your construction boost. Once your double queue expires, start upgrading your Labor Unions in your Investment Center, as you can upgrade buildings and investments at the same time.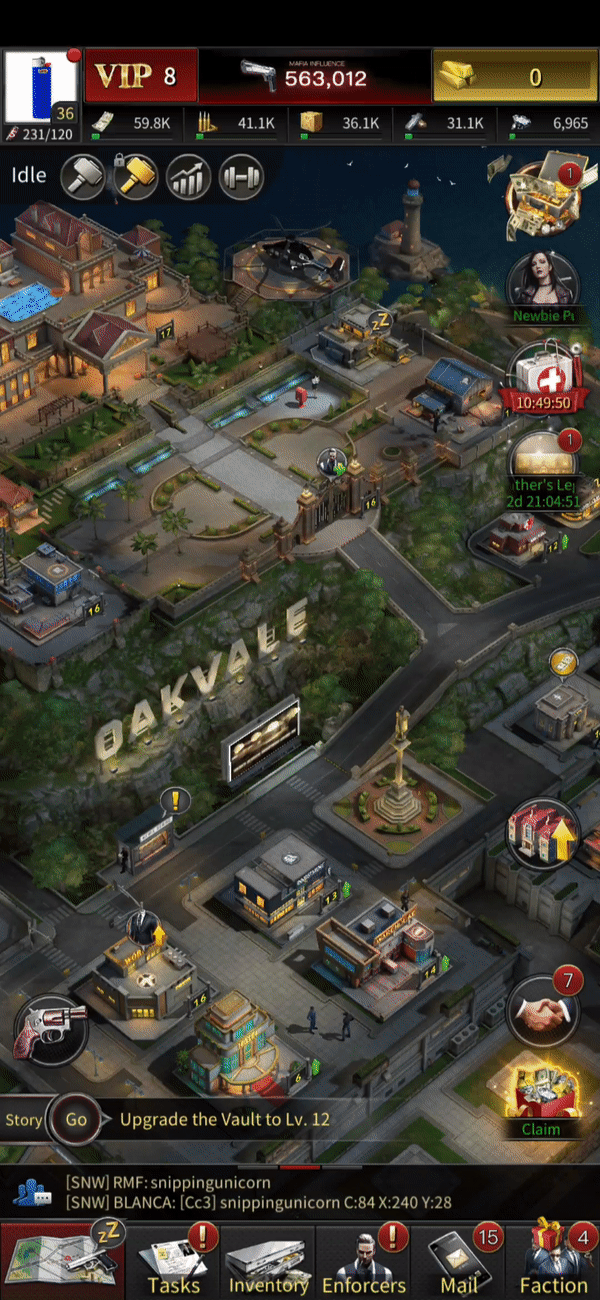 Increasing Construction Speed:
As you get further and further into the game, upgrades on buildings will get exponentially longer. From mansion levels 1-15, avoid using speed-ups and gold at all costs. The only time I would use a speed-up is if a building is close to finishing before you go to sleep, and you want to start a new upgrade while you are sleeping. Saving your speed-ups and gold will help you fly past the insane amount of buildings needed to upgrade mansion level 16. I had gotten my labor unions to level 6 by the time I had finished the offer.
Another way to increase your construction boost is by upgrading your Underboss specialties. You can do this by upgrading various skills throughout the upgrade path with Specialty Points, which you can receive by upgrading your Underboss's level. I got the majority of my construction boosts with this method.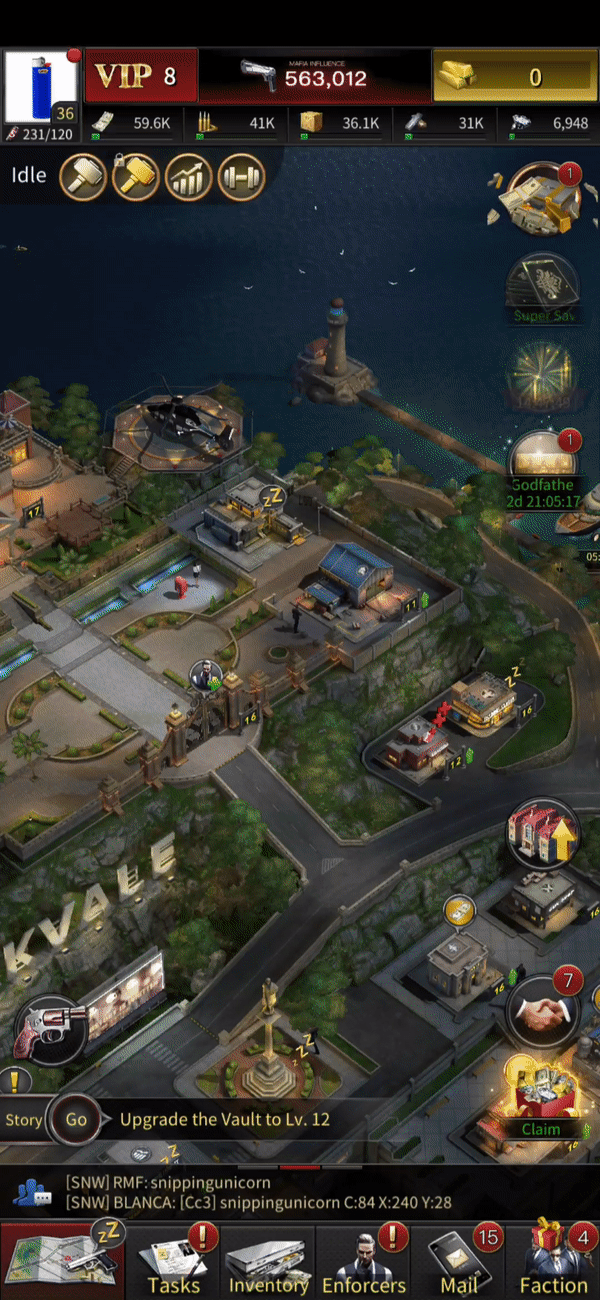 Speed-Ups:
Speed-ups are definitely the most important part of getting to the final mansion levels. Although they can easily be acquired by completing daily tasks, there are other methods to rack them up.
When you start the game, you'll have a "Scavenger Hunt" event. In this even you take down Kingpins and search buildings for rewards. This is a great way to quickly get speed-ups, materials, and even gold.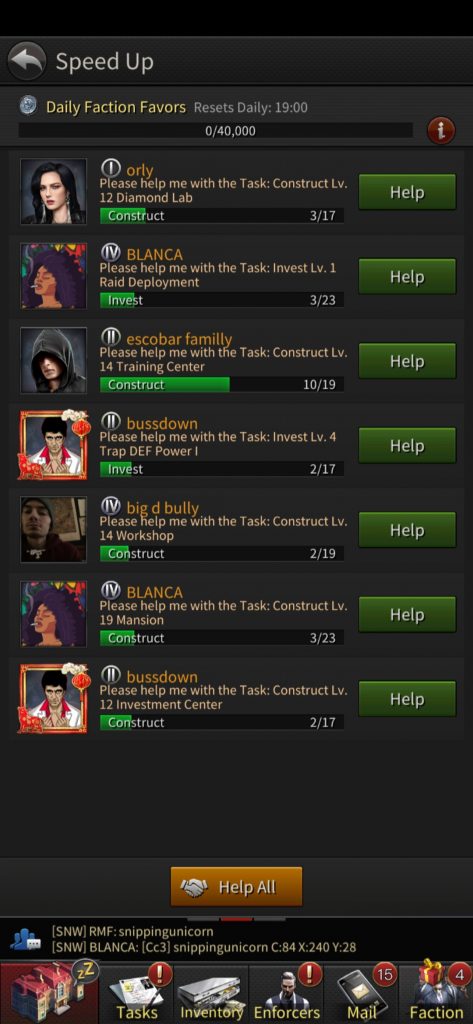 The Scavenger Hunt event isn't the only event that gives gold. The developers have weekly events with various tiers, of which provides speed-ups and resources.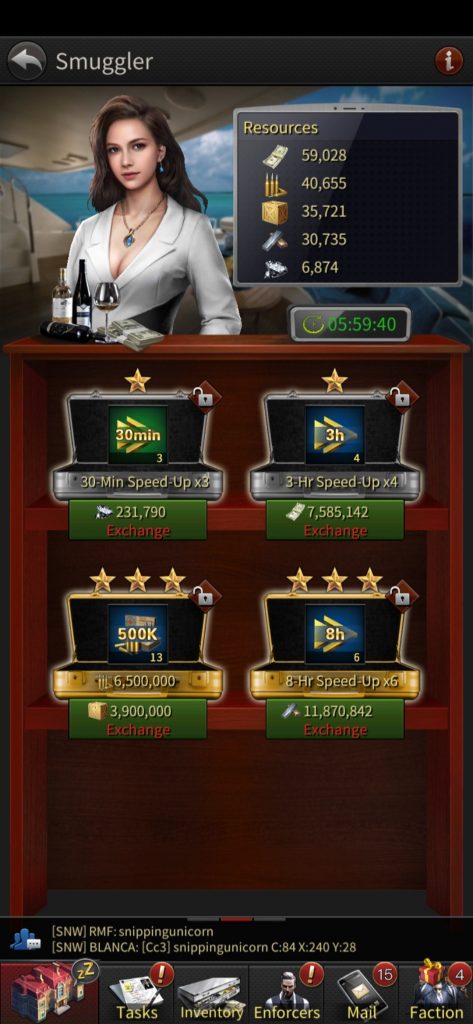 One of the best ways to get speed-ups is by assisting your faction. You can get up to 40K faction coins every day by helping speed-up your faction member's buildings. This has no cost to you and takes 2 clicks. Along with this, providing materials for your faction's investments is another great way to get faction coins. Once you have 90K faction coins, you can go into the faction shop and redeem them for a 3-hour speedup. They sell other speed-ups, but the 3-hour one is by far the best deal. I really wish I took advantage of this earlier in the game, although I did get about 12-hours worth of speed-ups from it.
Finally, you can sometimes buy speed-ups in the Smuggler's Exchange. The items for sale in the Smuggler's Exchange change every 6 hours, but more often or not they have speed-ups on the rotation.
Gold: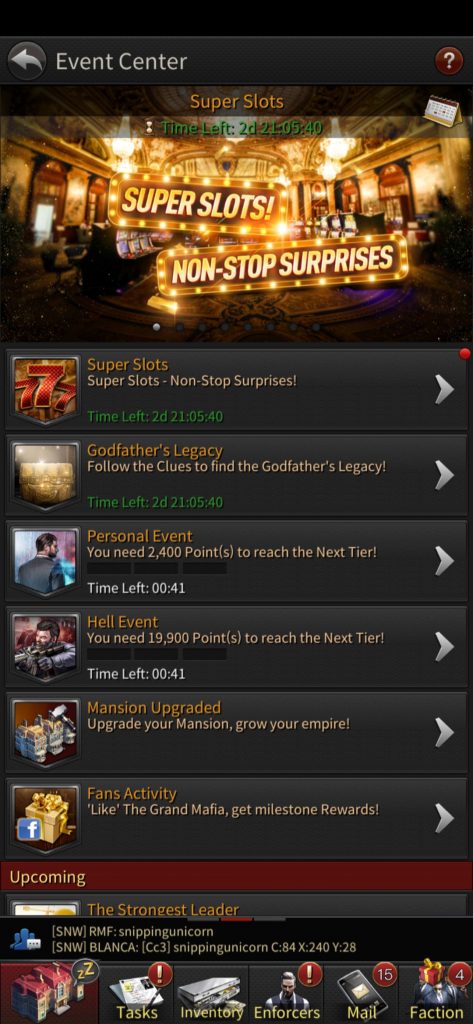 Gold is by-far the most sacred currency in this game and can help you out immensely with some of the final upgrades. One thing I wish I didn't do early in the game is spend my gold on short upgrades. I really should have saved for mansion levels 15-17.
When you start the game, the best way to get gold is from the "Scavenger Hunt" event. I easily got 2-3K gold from that event alone. I also got a fair amount of gold from various other events that were being hosted. On top of that, you can usually get 50 gold a day from announcements and 300-500 gold every-time there is a game update, or servers have downtime.
Mansion Upgrades:
As some of you may know from these games, you have to upgrade other buildings before upgrading your mansion. Thankfully u/Mikazah made a great chart that shows the upgrade paths for each level.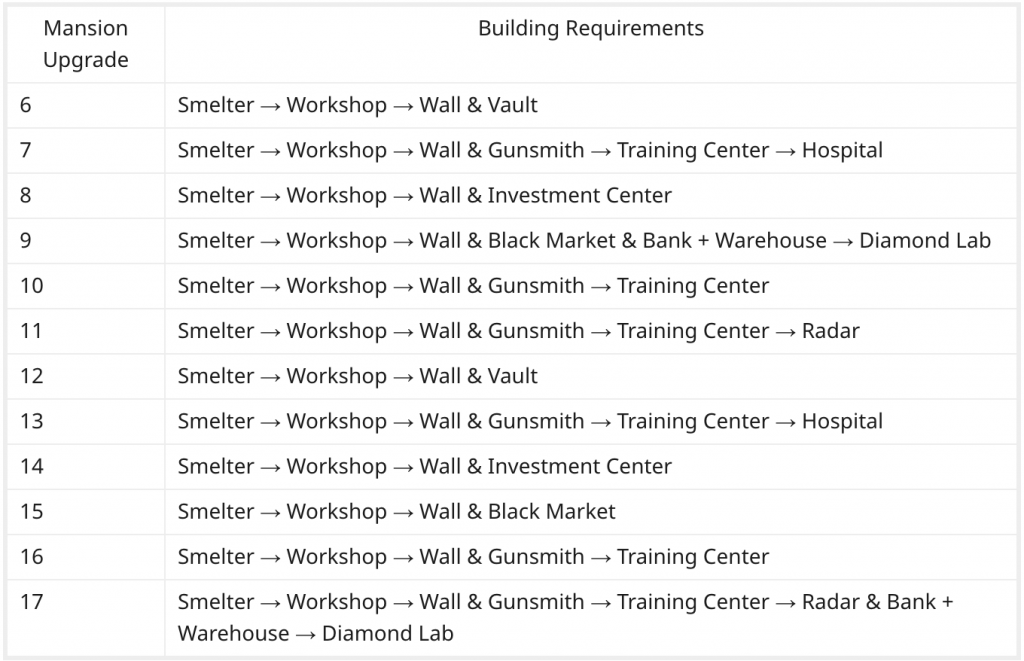 When should I start using my Speed-ups?
Start burning your speed-ups on the upgrade from mansion 16 to 17. There is an INSANE amount of buildings you need to bring up to date, including the Diamond Lab which will be 5-6 levels outdated. Along with that you'll need to upgrade your Radar 4-5 levels which takes forever too, considering the base of each upgrade without construction boost is 14-16 hours.
Resources/Materials
For the most part, you should be pretty set on materials; I never had to worry. If, for some reason, you are low on materials, try completing your daily tasks or events. Also, don't be afraid to ask your faction for some help.
Conclusion
Although this offer may seem complicated and a grind, I think it was fairly easy, as it was just a mobile game that I would otherwise be playing for free.
If you have not signed up for GG2U.org yet, click here. You will get a $1 bonus on sign-up.
Edited (2/5/2022): The rate has recently been increased from $18 to $30, updated the article.