On many different social media and communication platforms such as Reddit, Discord, and multiple online money-making forums, UserTesting (https://www.usertesting.com) has been regarded as one of the best UX (user experience) testing sites available.
What does UserTesting offer?
UX testing sites allow testers (you!) to test the websites of companies and organizations, so that they can get valuable feedback you provide. You will have to record your screen and interact with a prototype of theirs while giving your feedback through the UserTesting Screen Recorder. They pay out in PayPal 7 days after you finish a test.

What do I need to start?
You will have to be at least 18 years of age to apply. These tests require a relatively good microphone to speak your thoughts through, although most modern USB mics should be alright, as long as you can hear yourself clearly. Some tests may require a face recording, although those will explicitly state so if they so happen to require it.
Before getting into any testing, you will have to do the practice test, which is an application that UserTesting will evaluate to make sure you are right for the job. This doesn't usually take long and helps you get familiar with the website. You will also have to take a look at the support articles and take a quiz on some of it to make sure you understand the site and what you are getting into.
You will have to fill our your profile before you begin testing, which tells UserTesting what sort of test you will be eligible for. These are simple demographics questions, mostly.
On your computer, you must have one of the following browsers:
Chrome
Firefox
Edge
Safari (for Mac users)
Your system must have at least 1 GB of RAM to install the Screen Recorder, and must have either a Windows or macOS operating system.
Mobile devices are also supported; both Android and iOS devices. iOS devices must have at least iOS 9 installed, and be one of the following models:
iPhone 5, 5c, 5s, 6, 6 Plus, 6s, 6s Plus, and SE
iPad 3, 4 or iPad Air or iPad Air 2
​iPad Mini or Mini 2
Android devices have to have at least 400MB of RAM and Android 5.0 installed, as well as at least 20% battery left at the time of taking the test. Charging your device ignores this restriction.
If you have any sort of questions or need to troubleshoot a problem with the Recorder, refer to the help article that is on the UserTesting website: https://testersupport.usertesting.com/hc/en-us/articles/115003700531-FAQ-UserTesting-Screen-Recorder/
What kinds of tests are there?
Most tests will be around 5-20 minutes long and will pay out $10 USD. You will have to complete a screener, just to show the researchers know that you qualify for their user test. Most (around 90%~ish) of these you will not qualify for, but don't fret. There will be some tests that do not require any screening whatsoever, in which you will be allowed to start instantly. Most of these will be on either a macOS or Windows computer, but occasionally you will see a user test for mobile devices.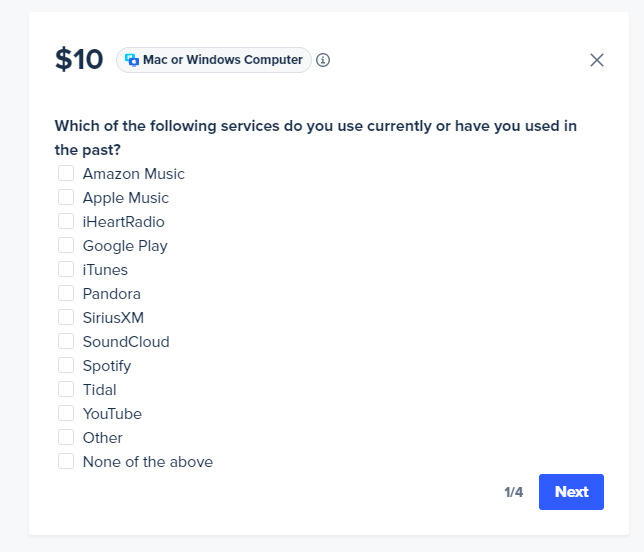 Some longer, LIVE tests can pay out $30 or $60 for 30 minutes/60 minutes respectively. For these, you will have to take a screener for and schedule a test live with the researcher. Some people have reported longer tests of 90 or 120 minutes paying $90 and $120, but 30 minute/60 minute tests are the most common.
What is my rating?
After every test, the researcher may give you a rating on a scale from 1-5 stars. Your rating is the average rating from the last twelve RATED tests you take. If you are not rated for a test, do not worry, it doesn't usually mean anything.
Lower rating users tend to have less tests, but your demographics likely play the biggest part in how many tests you qualify for and get.
Do you recommend it?
If you can do it, absolutely. I have had tests that are absolutely amazing and fun, and the pay is very good. The lack of qualifying tests is probably the only gripe I have, but that is not something I can change, and is a risk that comes with doing all paid tasks sites.